Other people, other places, other words, other concerns, other needs, other dreams.
Do Others Before They Do You is the first of a number of works where media images of protest were the starting point. In the wake of the 'anti-globalisation' protests, I began to collect hundreds of images of protest, and became interested in the relationship between human agency and the media. In this case my focus was primarily formal - I was interested in the objects people made put their message across, and the relationship between these and art objects, as they appeared very related: hand crafted objects made to communicate a message and attempt to change the world. The work is an exploration of these formal concerns, as well as an attempt to ask the question if art can be political - an ongoing concern in my practice.
The project entailed research, performance, painting, sculpture, installation and photography.
Special Thanks to Lynne Wilson, Stevie Dale, Lesley Young, Alan Holligan, Louise Milne and Susanna Beaumont, and all the friends and colleagues who participated on the march.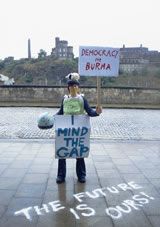 The Future Is Ours, photo
Postcard image for the exhibition. Click to see a larger pic>>